Inpatient Referrals & Follow-ups
When the risk of severe withdrawal exists, when continued substance use places an individual at risk of serious damage to their health, or when emotional, behavioral, or social problems exist to the degree that there is a need for a structured, 24-hour environment to address recovery efforts, Inpatient Treatment is the appropriate level of care. Bucks County Counseling can evaluate the need for an Inpatient level of care, and our close relationships within the treatment community enable us to advise you on the best choice of Inpatient Treatment facility for your individual needs, as well as coordinate and facilitate the intake process.
Types of Inpatient Care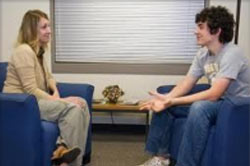 The highest level of care is Medically Monitored Inpatient Detoxification. This is treatment conducted in a residential facility that provides a 24-hour professionally directed detoxification of addicted clients. In some cases, patients with serious medical conditions, this would have to take place in a hospital setting rather than a residential facility. Detoxification is the process during which a dependent client is assisted throughout the time required to eliminate the presence of the intoxicating substance, while keeping the physical or psychological risk to the client at a minimum. This level of care offers 24-hour observation, monitoring and, usually, medication to minimize the discomfort of withdrawal. The duration of detoxification depends on many things, but is usually in the order of several days to a week. Here, the primary treatment goal is detoxification.
The next lower level of care is Medically Monitored Short-term Residential. This type of treatment is also conducted in a residential facility and includes 24-hour professionally directed evaluation, care, and treatment for addicted clients in acute distress, but not in need of detoxification. Typical services include specialized medical consultation and testing, physical examination and medication management, individualized treatment planning, individual therapy, group therapy, and, where appropriate, marital and family therapy. The duration of treatment in this case is typically between two weeks and thirty days, depending on clinical need. Here, the primary treatment goal is rehabilitation.
Another type of Residential care is Medically Monitored Long-Term Residential. Medically Monitored Long Term Residential treatment is a type of service that includes 24-hour professionally directed evaluation, care, and treatment for addicted clients in chronic distress, whose addiction is coupled with severe impairment of social, occupational, or school functioning. These programs serve clients with chronic deficits in social, educational, and economic skills, impaired personality and interpersonal skills, and significant drug-abusing histories which often include criminal lifestyles and subcultures. These individuals need a model more accurately described as habilitation, as opposed to the rehabilitation model. This service often requires global changes in lifestyle, such as abstinence from mood-altering chemicals (other than those needed to treat illnesses), elimination of antisocial activity, a new outlook regarding employment, and the development, display, and integration of positive social attitudes and values. Here, the primary treatment goal is habilitation (that is, learning things that were never learned in the first place.)
Aftercare Considerations
The transition from inpatient care to outpatient care is a critical time in the recovery process, and it is important for this transition to occur smoothly, in a timely fashion, and without interruption in communication between providers. Just as important is the continuity of treatment philosophy between inpatient and outpatient providers. The inpatient treatment centers we work with are chosen with these factors in mind. When an individual transitions from Inpatient care to our outpatient facility, you can rest assured that the energy and motivation imparted during their inpatient experience will be continued in outpatient care.