Our Services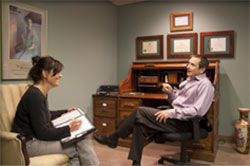 Bucks County Counseling is a State Licensed IOP treatment facility. Intimate small groups led by professional staff create a warm and nurturing environment, and our individualized programs address the unique mental, spiritual, emotional and social needs of each client. Read more...
General outpatient is the least intensive level of care offered in drug and alcohol treatment. It is an appropriate level of care for two types of individual. Read more...
When the risk of severe withdrawal exists, when continued substance use places an individual at risk of serious damage to their health, or when emotional, behavioral, or social problems exist to the degree that there is a need for a structured, 24-hour environment to address recovery efforts, Inpatient Treatment is the appropriate level of care.
Bucks County Counseling can evaluate the need for an Inpatient level of care, and our close relationships within the treatment community enable us to advise you on the best choice of Inpatient Treatment facility for your individual needs, as well as coordinate and facilitate the intake process. Read more...
If you think you or a loved one may have a problem with alcohol or drugs, or if you are required by your employer or local/state agency, the first action to take is a phone call for a clinical screening or clinical assessment. Read more...
When Drug or Alcohol abuse is present, relationships become troubled and family structures can become distorted. It may seem as though there are insurmountable barriers to reconciliation and recovery of healthy relationship functioning. Read more...
When someone you care about is involved in an addiction to alcohol and/or drugs, it can create an intolerable stress on the relationship and give rise to real concern over their safety and welfare. While it may be obvious that something must be done, it is not always clear what to do, or how to accomplish it. Read more...
Talk to a therapist about intervention services now. Call (215) 921-1810.
Yoga has been proven beneficial for a wide variety of therapeutic concerns including, anxiety, depression, trauma, chronic pain, loss and grief, life questions and transitions and relationship obstacles. When used in conjunction with other therapeutic modalities, such as cognitive behavioral therapy or medications, treatment effectiveness is greatly enhanced. Read more...
Anger is a completely normal, usually healthy, human emotion. But when it gets out of control and turns destructive, it can lead to problems - problems in your personal relationships and in the overall quality of one's life. It can make you feel as though you are at the mercy of an unpredictable and powerful emotion. The anger management treatment designed in this program, which has been delivered to hundreds of clients, has been popular with both clinicians and clients. Read more...
Our lives are full of challenges. Whatever challenge you or a loved one is facing, our experienced, licensed, mental health professionals will work with you to regain stability and peace of mind in your life. Read more...