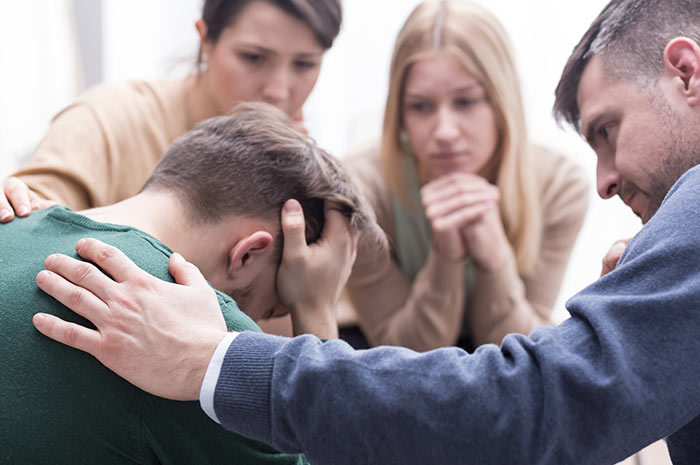 When someone you care about is involved in an addiction to alcohol and/or drugs, it can create an intolerable stress on the relationship and give rise to real concern over their safety and welfare. While it may be obvious that something must be done, it is not always clear what to do, or how to accomplish it.
To make matters worse, it is not unusual for individuals with substance abuse problems to be unmotivated to change. Research shows that upwards of 90% of individuals with addictions are not yet ready to take steps towards change. In fact, one of the hallmarks of addiction is the denial by the addicted individual that significant change needs to occur, often in spite of having suffered serious consequences as a result of their substance abuse.
These two aspects of the problem make it extremely difficult for a significant other acting alone to intervene in an addiction. In fact, in a one-on-one confrontation with the addict, the addict will practically always prevail.
Treatment centers such as ours regularly receive calls from desperate friends or family members seeking advice regarding the drug problems of a loved one who is resistant to change. The suggestions given will depend on the philosophy of the treatment center and/or the individual who answers the phone, and often the advice can seem contradictory. For example, a concerned family member might be told to engage in a mutual-help group, such as Al-Anon or Nar-Anon, with the purpose of improving their own peace of mind and 'detach with love' from the substance abuser. Behind this suggestion is a belief that there is little the family member can do to force the abuser into treatment and that the abuser must 'hit bottom' and seek help on their own. So the family member will benefit from helping themselves, and, by not interfering with the addiction, will allow the abuser to reach his or her bottom.
On the other hand, the family member may be advised to conduct an intervention that consists of rallying friends and family of the abuser and directly confronting her or him and insisting on change. Behind this suggestion is the belief that the family and friends have much power to influence the abuser towards change, and that reaching out to help a loved one is healthy, rather than co-dependent. Both stances have merit and are not necessarily mutually exclusive. Let's briefly discuss each:
The most well-known type of intervention involves planning a meeting during which the addict/alcoholic will be surprised and confronted by concerned family and friends in a loving way and with a certified intervention counselor present. This practice has been popularized through the television show aptly titled 'Intervention'. This process can be stressful but very successful in engaging a substance abuser into treatment if the family goes through with it. The problem is that the majority of significant others presented with this option choose not to go through with it, citing fear of alienating their loved ones and/or feelings that the procedure is more severe than necessary. It is important to realize that this is not the only technique for intervention, and that less confrontational and stressful alternatives exist that have been shown to be equally effective, depending on the circumstances. We believe that matching intervention method to the particular strengths, needs, and situation of a family will result in more families using an intervention, and therefore more addicts engaging in treatment.
Al-Anon/Nar-Anon groups, on the other hand, are not intended to help the addicted individual, nor to engage them in treatment, but are meant to help those who are in a position to be strongly affected by the addiction, other than the addict. These groups have their origins in Alcoholics Anonymous and share the same programs of recovery, only aimed at different sides of the coin. These groups have known for decades (and recent research supports it) that significant others can suffer from depression, anxiety, anger and physical symptoms as a result of their involvement in the addiction. They also understand that some well-intentioned efforts to manage or change the course of an addiction can actually serve to maintain the addiction, enabling it to continue rather than run its natural course, which is assumed to be the above mentioned 'bottom'.
Alcoholics and addicts very rarely exist in a vacuum. They are almost always surrounded by people they care about and who care about them. Research has shown that the large majority of addicts and alcoholics live with, or are in daily contact with, close family members. This collection, or 'system', of individuals is what needs to be targeted if the individuals within it are to be restored to health. Change in one without change in the other is, more often than not, a recipe for failure. Knowing this, we can see that, far from being mutually exclusive, the two perspectives above must be mutually inclusive, working together towards an outcome that will be both robust and durable.
Research has shown the following:
That Al-Anon/Nar-Anon engagement of the family members alone is least likely to engage the dependent into treatment, which makes sense given what we've discussed above.
The greatest likelihood that an individual will engage in and complete treatment comes with either mandated treatment (court ordered) or when a professional intervention is conducted and the family stands united in purpose and message, and
Recovery after treatment completion is most likely when both the dependent and family are engaged in the recovery process with clear communication channels between themselves.
The bottom line is that, if you are the parent, spouse, partner, sibling, or friend of an individual you suspect has a drug or alcohol problem, you don't have to wait for the problem to get worse before you do something to help them, or to help yourself, and you don't have to, nor should you, do it alone. A treatment center or Certified Addictions Counselor who follows evidence-based, up-to-date methods should be able to provide a number of options designed to accommodate the circumstances surrounding your particular situation, and guide you in the direction of your solution.
Bucks County Counseling is a partnership of licensed and certified therapists with over 80 years of collective experience in recovery from drug and alcohol dependencies. All of us entered this field to bring our personal passion for recovery to the broader community and to help other alcoholics, addicts, and their families find solutions to their dilemma. As a group, we bring together all the disciplines and training needed to address substance abuse and dependence with the excellence and compassion needed to make an enduring recovery possible. Our goal is to provide an environment of acceptance and empathy within which an individual can have a healing experience that is based on state-of-art, evidence-based interventions. Our success is a measure of the hard work and dedication that our clients and their families apply to their recovery.
At Bucks County Counseling, we can help connect you with a trained interventionist.